Guess what finally turned up today!
The 1930's aluminum double bass I got for my man
as a very early 40th birthday present, he's like a kid
in a candy store at the moment.
He's been wanting and aching to get one for 15 years
so I guess this really is the best present he ever got.
They are extremely rare and cost a lot of money but
I managed to get it for a
very
good price.
Since I don't smoke, drink or spend all my money on
expensive stuff I've been saving up ever since I met my
man with the hope of one day finding this treasure.
I'm doing some research at the moment.
There's a decoupaged picture of an old style coach and
a inscription "The Coachmen"on the bass and I think I
found something
here
.
I also found a note inside the bass that was from Battle
Creek High School, dated February 16th 1933.
The bass in it's current state.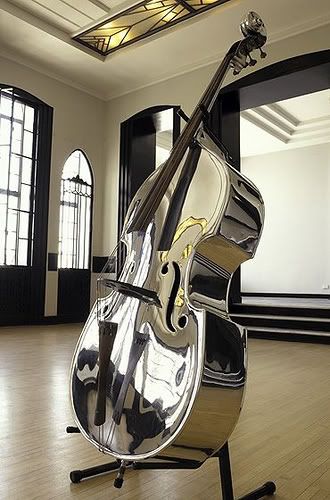 The bass in the picture is stripped and I think it's a
future project for my man to make his looking like
this.