Sorry for the lack of post lately but the weather has
been and still is really nice and my friend Sandra is
over from Sweden for another week so we're pretty
busy.
So what have we been up to?
Well, Greg (singer from Slim Slip and The Sliders)
came over just a few hours after we'd picked Sandra
up from the airport on Saturday so he stayed over
the entire weekend.
On Sunday morning we went to two car boot sales
and in the afternoon Brett came over for a jam with
the boys while me and Sandra were sipping cherry
wine in the garden.
What else? We'd been shopping, taking long walks,
watched movies and relaxed.
Here's some of my favorite finds from Sunday!
Enjoy!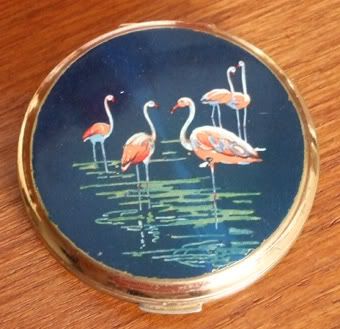 1950's compact, £2.
Vintage Avon perfume bottle, 50 pence.
Light pink angora cardigan, £1.
1950's fan, £1.