Me and my man had a day out today.
We haven't done much together lately because we'd
both been busy with this and that so we decided to
go to Golders Green to have a bite to eat and check
out the local charity shops.
I found these funky vintage earrings for £1.50...
and this record by Connie Francis who sings Jewish
favorites(!!!) for £1.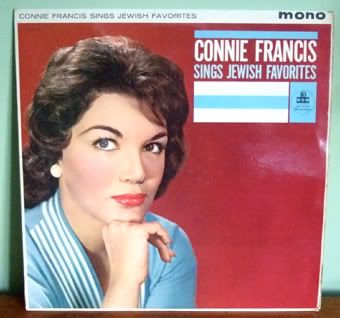 Hello!!! As a Jewish rockabella this
must
be a slice
of heaven.
Afterwards we went shopping for new towels etc. to
doll up the bathroom.
I also been painting a second coat on the stairway,
started last night and I'm really looking forward to
finish it because it's gonna look like a piano!
I got the idea last year after watching an episode of
the TV show, The Real Housewives of New York.
(The countess has black and white stairway in her
Manhattan townhouse.)
Tomorrow my best friend from college is coming over
for a week, I'm really looking forward to it.
We're gonna go to the Ace Cafe hot rod night, have a
party, going shopping in London and much more.