SATURDAY
Went to a car boot sale
and
a jumble sale!
Managed to find some cool stuff, I won't post all of it
though, too many pictures.
My favorite find must be the polka dot bathing suit,
I'm gonna use it as a top, perfect with a little sailor hat.
And I found a hideous vintage dress that has the exact
fabric that I've been looking for!
I'm gonna turn the dress into 1950's style pirate pants,
like the curvy blond chick in Grease 2 wearing while
bowling, check out the
"Score Tonight"
song.
Like always, everything is vintage and this time I also
convert the prices into Swedish and American currency.
Bathing suit, 50 pence. (6 kr, $0,75)
Scarf, 10 pence. (1,30 kr, $0,15)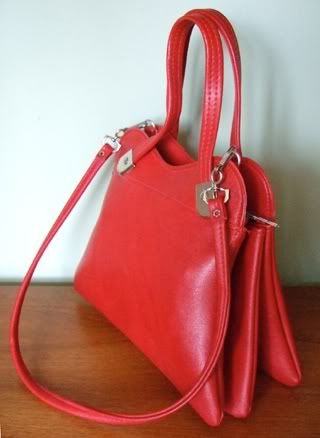 Handbag, 10 pence. (1,30 kr, $0,15)
SUNDAY
A night out at Dingwalls!
Our friends,
The Hormonauts
, put on a really great
show, as always.
My man picked up the guys at the airport and then
drove them to Dingwalls in Camden and since there
was no room in the car for me my lovely man came
back home to get me.
It was great to see friends that I don't get to see that
often, lots of catching up to do.
Click
here
for pictures.
I also met a Bull Terrier on the way to the gig, what
a cuddly pig! I could have scratched and kissed him
all day.