Yesterday we went on a day trip to look in charity shops
and to go and get a Ladderax record cabinet that we won
on eBay and to get another
Ladderax
unit that we got for
free from Freecycle.
We didn't find much in the charity shops, just a pair of
lovely earrings and some sheer gloves from the 1950's.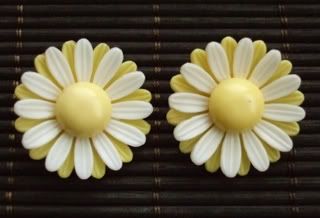 Earrings, 50 pence.
We're busy planning for the house makeover that's gonna
happen as soon as it's warmer outside.
The walls are gonna get a fresh coat of white paint the whole
house through and the coving and the skirting boards in the
lounge will be painted black to match our furniture and make
it look more sophisticated.
And yes, there will be before and after pictures.