I had cravings for cereals the other day, I mostly eat oatmeal
in the morning, I had a look at the ingredients on a packet of
crunchy cereals at the supermarket and all I see is sugar, sugar
and more sugar. The price wasn't very appealing either.
So I decided to make my own cereals like I did when I was
living on the minimum in Stockholm.
You'll need:
3 tablespoons of honey
2,5 deciliter (1 cup) of oats
A hand full of whatever you like, for example: pecan nuts,
coconut flakes, dried fruit, almonds...
You can also add some seeds like sesame seeds or line seeds
if you desire, it's very good for the digestion.
Take the honey, put it in a heated pan, low heat, then add the
oats and the stuff of your choice.
Stir it all together on low heat for a minute or two, make sure
the oats mixes well with the honey.
Let it cool off, serve with yoghurt.
Enjoy!
(This mix will last you for a couple of breakfasts so store in a
plastic container in the fridge.)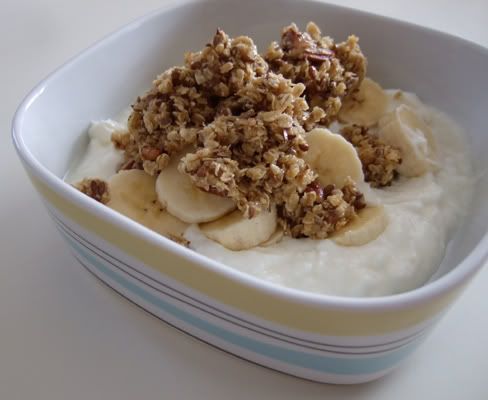 I used pecan nuts and line seeds.