I don't know about you but I had a very nice weekend.
Yesterday morning me and my man went to a car boot
sale where we did some nice finds and got a cuddle from
a huge Bull Terrier named Stanley, in the afternoon we
went to a friends house who had a BBQ and live music
in the back garden.
Today we went to three car boot sales where I got a nice
cuddle from a 7 week old Staffordshire Bull Terrier/
Bull Mastiff mix (my man wanted to bring her home)
and afterwards we went for dinner and kosher ice cream
with mother in law, who asked me if I want to go to
Florence (Italy) with her. Silly question, of course!
I don't have any pictures of the finds yet but I must tell
you about one of todays favorite finds.
I saw this floral wiggle dress, that I first thought was
vintage (from afar) and it looked a bit unusual,
so I took a closer look at it and it turns out to be a dress
from
Bettie Page Clothing
, and to be honest, I haven't
even checked the site out until now because I know the
stuff will cost more than I'm willing to pay for new items
and I'm more interested in authentic 1950's clothes.
(But for what I payed for it, it was a sin not to get it.)
I could tell the dress never been worn and the lady that
was selling it said that it was way to small for her (it's
a size small) and she wanted £10 but said I could have it
for £6 but I ended up paying £5. (65 Kr, $8)
I did some research and this dress actually cost £72
(950 Kr, $120) on a website but is now out of stock.
That's what I call a bargain.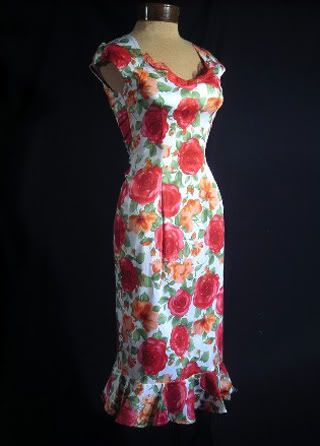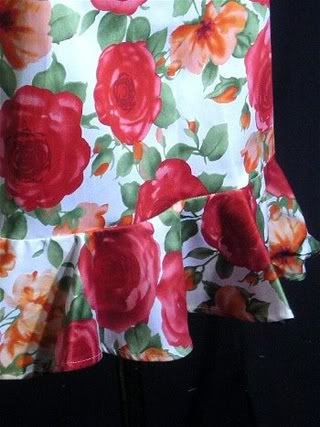 Pictures borrowed from Blue Velvet Vintage.

Update 9:37 PM: I just tried it on and it looks gorgeous
with my black hair, tan and curves.