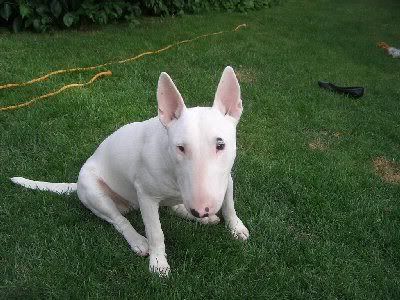 This is Maddie.
She's the girl of my dreams, she looks so much like Pixi,
the Bull Terrier I used to have when I was living in Sweden.
Maddie is up for adoption and I want nothing more than to
be her new mommy.
Thing is, I can't because we have plans in September and it
wouldn't be fair if we put her in a kennel while we're away.
It really breaks my heart.
I said to my man that I wish I had a very close friend or that
my dad was living over here so he could look after her, I know
he would, he loved Pixi very much and I know he would find
a special place in his heart for Maddie too.
Oh, gosh, I'm gonna start crying any minute now...
Our plans is breaking my heart.