We went to a local car boot sale this morning.
We didn't think it would be on since it's been raining,
but the sun came out from the clouds and we jumped
into our new cool car and went off in a speed.
It wasn't many sellers there at all but we managed to
get the Godfather trilogy on VHS for 50 pence and a
1950's table for £2 and this wonderful sailor bottle
from 1933 for £2.50.
He goes perfect with our 1950's boat bar.
Then we went to an antique shop we passed by bus
last week, they had so many cool things for really
wonderful prizes.
My darling ended up buying me this pretty 1950's
plastic wicker sewing box for only £6.50.
( I collect them. No surprise, huh?)
It was hard work cleaning in but it turned out to
be very nice and clean in the end.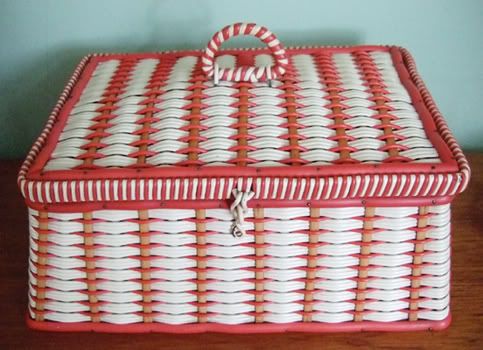 We're going out tonight, first we're gonna go to a
vintage car show and then later on go to a gig.
Tune of the evening:
The Jiants - "Tornado"