Hello ladies!
We went to two car boot sales this morning.
Got some really neat things!
I haven't pictures of them all, I got some stuff that
I'm putting up for sale tomorrow and we got a 50's
tray that was ugly but I'm gonna revamp it, it cost
us 50 pence and we got a really nice 50's ceiling
light for only 20 pence.
My favorite find of the day must be the two black
cats, the are perfume bottle holders that was made
in the 1950's, unfortunately the bottles is missing
but they are in a very good condition and cost me
£2 each.
I'm also happy about the toilet roll cozy in shape
of a Poodle, I just added a polka dot bow around
his neck.
Perfume bottle holders, £4, $8, 50 Kr.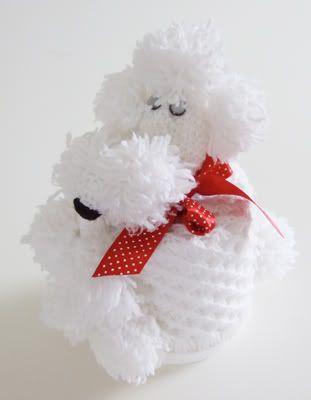 Toilet roll Poodle, £0.10, $0.20, 1.20 Kr.
Vintage purse, £0.20, $0.40, 2.50 Kr.