I've been so busy creating stuff this week that I almost forgot
to post pictures of some of my finds I made last Saturday.
It got a bit colorful this time around.
My man asked me out for a date this morning.
We decided to go on the sun bed to get some color and then
home for a quick shower and then off to St. Albans for a nice
Italian lunch.
Tonight we're gonna party with the Go Getters who are over
in the UK for the weekend. It's gonna get wild an crazy.
Matryoshka doll, £1.30.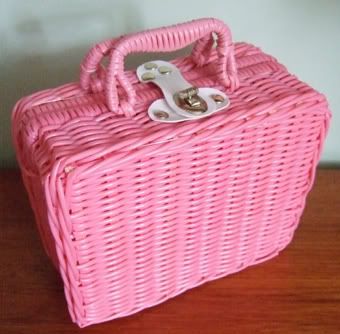 Plastic wicker bag, 50 pence.
1950's Companion set, £2.50.
(Check out the pineapples!)
HAVE A NICE WEEKEND!