My birthday was great!
My man took me on a secret road trip to St. Albans
where we had lunch at our favorite Italian restaurant,
Sazio
.
We also went into a charity shop where I found two
handbags from the 1950's.
When we came home I put the coffee maker on and
my lovely man surprised me with a birthday cake and
another present.
In the evening we went to see Slim Slip & The Sliders
who wished me happy birthday from stage and also
dedicated my favorite song.
I was a little bit annoyed that I couldn't have a Baileys
and a jive because of the damn
Labyrinthitis
.
Yesterday I got a big package from Sweden.
The ever so lovely
Miss Wink
had sent me a present
with a lot of girlie stuff.
A card, a pair of black gingham panties, a shower cap
with pinups, a strawberry face mask and a very pretty
vanity case.
Thank you so much darling! *hugs*
My friend
Katarina
called to wish me a happy birthday
and we had a nice long chat.
My sexy man and the cake.
A 1930's Bakelite razor. (From my man.)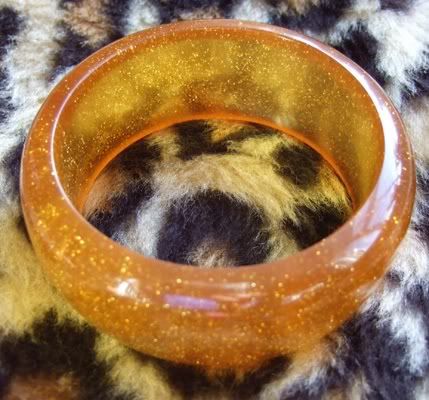 A 1950's Resin bangle. (From my man.)
Tons of yummy stuff from
Miss Wink
!
Tonight we're going out for dinner at my favorite
kosher restaurant,
Mattan Cherry
, in Golders Green
with my lovely mother in law and after dinner we're
going to see
Jive Aces
perform in Edgeware.