In about 2 hours I will become even more colorful!
I'm finally gonna finish my Phecock (my bird looks like a
cross between a Peacock and a Phoenix).
When I got my first tattoo at the age of 16 my dad went
crazy and said that it's only bums, prostitutes and sailors
who got tattoos. OK, so I guess I'm a sailor then! *smirk*
What my dad and many others like him doesn't realize is
that collectors of tattoos often see them as an art form.
Some hang their art on the wall, I chose to wear mine.
My maternal grandfather was a sailor and he had a huge
ship in one of his arms and a sunset on his wrist and ever
since I can remember I wanted to have tattoos like his.
And now I can't get enough...
Tattooed ladies isn't a new thing.
Just look at
Artoria Gibbons
, she was one of the most
popular tattooed ladies (there's several of them actually)
who had her entire body tattooed.
The artist of her tattoos was her husband, Red Gibbons.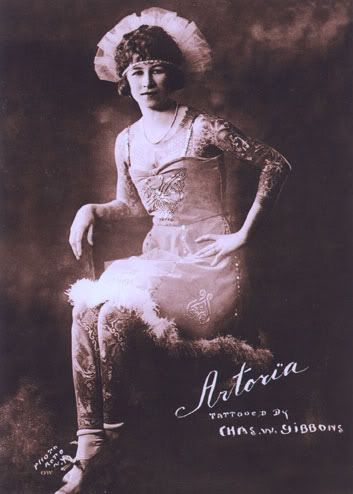 Thought:
Could the song "
Lydia the Tattooed Lady
" from the
Marx Brothers movie
"At the Circus
" been a tribute to
Artoria?